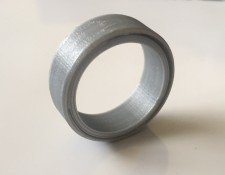 Bronx, New York, April 3, 2017 (Newswire.com) - Throughout the world, additive manufacturing is providing itself useful in a wide of array or market segments. These segments include the health, military, food, automotive and general consumer products.
When Gerry Libertelli founded buildpl8, a next generation 3d printing factory, he never imagined that the products he was creating and printing would help or even employ people with Autism Spectrum Disorders.
Buildpl8 is a digital 3d printing factory that can produce factory level output, and is run by a central software system that can optimally schedule and run jobs for its customers. Libertelli was experimenting with different printer types and needed to test out something that required a high tolerance so he put the model of the Fidget Ring together to test it out.  Then he showed it to Special Citizens' CEO, Jessica Zufall, and she immediately spotted the link.
The Calmring is not a new concept however, related to people with Autism Spectrum Disorders, other intellectual/developmental disabilities, the ring has proved via a pilot program hosted by Special Citizens, a NYC-based nonprofit organization, to be helpful for re-orienting to the task at hand and maintaining concentration. The ring is also beneficial in working to break bad habits such as nail biting or smoking.
As a result of the positive results from the pilot, Libertelli decided to employ people with Autism supported by Special Citizens to manage the Calmring Shopify Store and fulfill all orders that come in from customers.
"Calmring is going to be one of many products produced by buildpl8, we anticipate it will be part of a collection we call "Positools," a site dedicated to items for people with intellectual/developmental disabilities," says, Libertelli. "Being able to offer employment opportunities to people Special Citizens supports has been an added bonus to this project and I am excited to be offering a real life job experience to this group of talented people," he added.
Additive manufacturing and 3D printing can be considered one of the most disruptive technologies of our time, and it is predicted to be the discoverer of another industrial revolution.
 "Having the ability to pilot the Calmring has been very exciting for our organization," says Jessica Zufall, chief executive officer of Special Citizens. "The fact that this pilot has resulted in employment opportunities for people we support is extraordinary and we are so excited to expand the skill sets for each person so they may continue to move on to more competitive employment," she added.
To purchase a Calmring, please visit www.calmring.myshopify.com. To learn more about buildpl8, please visit http://www.buildpl8.com. and to learn more about the services Special Citizens provides to people with Autism, please visit www.specialcitizens.org.
Source: Special Ctizens Futures Unlimited
Share: