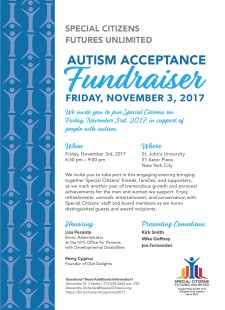 NEW YORK, NY, October 24, 2017 (Newswire.com) - Autism Organization to Hold Autism Acceptance Fundraiser on November 3, 2017 with Comedy Performance by Kirk Smith, Mike Gaffney, and Joe Fernandes
Special Citizens, a New York nonprofit organization that has supported adults and children with autism for over forty years, will host its annual Autism Acceptance Fundraiser on Friday, November 3, 2017 at 6:30pm at St. John's University at 51 Astor Place in downtown New York City.
The event will be an engaging evening bringing together Special Citizens' friends, families, and supporters, to mark another year of tremendous growth and personal achievements for the men and women supported by the agency. Guests are invited to enjoy refreshments, comedy entertainment, and conversation with Special Citizens' staff and board members, as the organization honors distinguished guests and award recipients, Lisa Pesante, Bronx Administrator at the NYS Office for Persons with Developmental Disabilities, and Perry Cyprus, founder and CEO of Diet Delights; both long-time supporters of Special Citizens and advocates for people with autism.
The evening will also feature a comedy performance that will celebrate advocacy, service, and care in support of people with autism. Comedians Kirk Smith, Mike Gaffney, and Joe Fernandes will touch on themes that highlight the importance of autism acceptance.
"This fundraiser allows us to celebrate the work of two amazing advocates in the field of developmental disabilities while bringing together three incredible performers that will be sure to keep our guests laughing all night. This is a night to celebrate and memorialize Special Citizens accomplishments and the wonderful people it supports while raising acceptance of autism at the same time," says Jessica Zufall-Guberman, Chief Executive Officer at Special Citizens.
Kirk Smith is a comedian/actor/writer. He has performed in over 100 different venues on five continents.  Smith is the author of the bestselling book, Rice Krispies with Ketchup: A Comedian's Journey with an Autistic Son, and the co-anchor of Autastic, a podcast ranked on iTunes.
Smith's book, Rice Krispies with Ketchup, is an honest, painful and heartwarming account of a family's daily struggle with loving and caring for a special needs child. Through laughter and tears, Smith finds a way to come to peace with his son´s limitations, motivates his readers to live life fully and provides what families in similar situations need: HOPE.
Smith, who is excited about taking part in this event, "It is important that we begin to accept and embrace individuals with autism on a more equal level. I support Special Citizens and their mission to educate people and to encourage Autism Acceptance."
Mike Gaffney has been performing for over a decade. He has appeared on The Artie Lange Show on Direct TV, as well as on the first season of Gotham Comedy Live on AXS TV and was a semi-finalist on season 8 of Last Comic Standing on NBC. Executive Producer Wanda Sykes was so impressed with Mike, she used his clip to promote Last Comic Standing on the Ellen Show on NBC, as well as The View on ABC.
When Joe Fernandes is not escaping reality by hanging with his Welsh Corgi on hiking trails, he can be found in comedy clubs making fun of his unrelenting confusion with life. From stories of his struggles growing up to his adult struggles of being married with stepkids, Joe's open book approach to comedy has an honest point of view that any audience can relate to. He has been invited to perform at the NY Comedy Festival & Gilda's Laugh Fest.
About Special Citizens: Since 1976, Special Citizens Futures Unlimited has provided comprehensive, individualized and integrated services to adults and children with Autism Spectrum Disorders in New York. Each year, our dedicated staff of over 200 professionals provides services to over 350 people in New York City, the Bronx, and Westchester. At the core of our work at Special Citizens is a commitment to person-centered planning, which empowers each person with the tools to build a life of independence, inclusion, and individuality.
The Autism Acceptance Fundraiser will take place on Friday, November 3rd, 2017 at 51 Astor Place, New York, NY 10003 from 6:30 pm - 9:00 pm with a cocktail hour starting at 6:30 pm; program to begin at 7:00 pm. For more information on purchasing tickets, contact Alexandra St. Charles 212-643-2663 Ext: 222 or alexandra.stcharles@specialcitizens.org. For more information about Special Citizens, please visit www.specialcitizens.org.
Source: Special Citizens Futures Unlimited
Share: