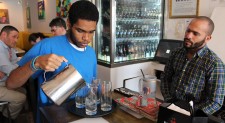 Bronx, New York, April 21, 2016 (Newswire.com) - Special Citizens Futures Unlimited will host its first annual mixer and benefit on Tuesday May 3, 2016, at Marcha Cocina Bar in New York City.
During the month of April, Jairo de la Paz, owner of Marcha Cocina Bar has provided on site training to men and women supported by Special Citizens, teaching them various skills on what it takes to work at a restaurant.
De la Paz reflected on training the men and women from Special Citizens saying, "It has been a good experience working with adults with Autism. Getting to know the individuals from Special Citizens has encouraged me to get to know my customers more."
The individuals were trained on how to be a Maître'd, server, food runner, and busser. This is in preparation for them working at Marcha Cocina on Friday, April 22 and 29th, from 11-2pm during brunch. "Everyone has a role, we have rehearsed what they are going to do and I think we are going to have a successful brunch," said De la Paz.
Preparing desserts was also on the menu as they learned how to make Flan and Chocolate lava cake. The men and women supported by Special Citizens reflected on their training experience. Leslie Moore stated, "I enjoy working at Marcha Cocina. It's just like having a full-time job."
Jackie Farrell, described role-playing as her favorite part of the training. "I like when we broke off into groups, with one group playing the staff, the second group playing the costumers". She added, " I learned a lot from these exercises."
De la Paz gave his thoughts on partnering with Special Citizens for mixer and benefit on May 3rd. "I am very excited. This will help people in the area learn more about how Autism affects a person. It makes me happy to spread some information and knowledge to the community."
When asked if he would like to work with these individuals in the future, De la Paz stated, "Yes of course. There are a lot of possibilities and I am looking forward to it."
Marcha Cocina is located 4055 Broadway, New York, NY 10032.
The men and women supported by Special Citizens will work at Marcha Cocina on Friday, April 22 and 29th during brunch from 11-2pm. The first mixer and benefit will take place on Tuesday, May 3rd from 6-9pm. For more information, please call 212-643-2663. For more information about Special Citizens, please visit www.specialcitizens.org.
Source: Special Citizens Futures Unlimited, Inc.
Share: