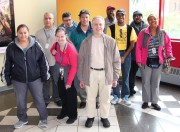 Special Citizens Futures Unlimited Pre-Vocation program will attend a Legislative Breakfast on Friday, March 4, 2016, in the Bronx. The men and women we support will lead in the singing of the "Pledge of Allegiance".
Bronx, New York, March 2, 2016 (Newswire.com) - The Bronx Developmental Disability Council will host their annual Legislative Breakfast on Friday, March 4, 2016.
Special Citizens Futures Unlimited will have men and women that we support from our Pre-Vocation program attend this event. They will participate by leading the singing of the "Pledge of Allegiance" and eating breakfast.
"It is something that is exciting and different, I am proud that they get the opportunity to attend and perform at this event. They also get a reward of having a fantastic breakfast," says Rosalind McAllister, Pre-Vocational Mentor.
This event will have a legislative host, along with Acting Commissioner of NYS OPWDD, Kerry A. Delaney, and Regional Director Donna Limiti attending. Janice Chisolm from the New York City Department of Health and Mental Hygiene will discuss issues faced by people with disabilities and their families in New York City.
The legislative breakfast will focus on issues such as NYS OPWDD Front Door Policy, Medicaid Managed Care transformation and its impact on the field of developmental disabilities, employment initiatives and direct care work force issues. 
The Annual Legislative Breakfast is scheduled on March 4, 2016 from 8-11AM. The location of this event is at Maestro's located on 1703 Bronxdale Avenue, Bronx, New York. For more information, please call 212-643-2663. For more information about Special Citizens, please visit www.specialcitizens.org.
Share: