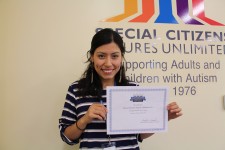 New York Nonprofit receives $1,500 grant from the New Yankee Stadium Community Benefits Fund.
Bronx, NY, June 6, 2016 (Newswire.com) - Special Citizens Futures Unlimited was awarded a $1,500 grant from the New Yankee Stadium Community Benefits Fund, Inc. The purpose of this fund is to improve the quality of life in the Bronx by addressing civic, socioeconomic and/educational needs and providing social arts, health, cultural, and recreational opportunities.
Special Citizens received this grant thanks to the help of Tatiana O'Connor, Community Habilitation Supervisor. This grant will go towards recreational activities for all Special Citizens program participants.
"We are very thrilled about the many recreational possibilities this grant can provide to the individuals we serve. We see it as an opportunity to integrate all the individuals we serve by providing them with a diversity of recreational and social activities," said O'Connor.
In March 2016, Special Citizens received a $50,000 from the New York State Office of Mental Health (OMH). This grant has been used to strengthen Special Citizens technology infrastructure. "I decided to search for grants related to our programs, and I came across this grant. I was happy when requirements of this grant suited the mission of the Community Habilitation Program," said O'Connor.
Although O'Connor spearheaded this project, she mentioned those who assisted her in this process. "Yes, Jessica Zufall, Ph.D., Chief Executive Officer and Crystal DeLeon, Community Habilitation Coordinator were very enthusiastic and helpful and they made the application process super smooth."
Adults with developmental disabilities often have difficulty finding social and recreational activities to participate within their community.
"Enabling them to have access to their community and building significant relationships with others can be extremely rewarding. Meaningful activities can expose these deserving men and women to new and exciting experiences, alleviate stress, and promote happier and healthier lifestyles. Lastly this can help them gain confidence and promote independence," said O'Connor.
Source: Special Citizens Futures Unlimited, Inc.
Share: