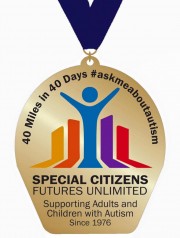 Bronx, New York, January 7, 2016 (Newswire.com) - As the New Year approaches, Special Citizens has a lot to look forward to in the year 2016. In August, Special Citizens will celebrate its 40-year anniversary of supporting people with Autism Spectrum Disorders.
In order to kick off our 40th year, Special Citizens will host a Virtual Run called the "40 miles in 40 Days Virtual Challenge." This event will take place from January 1st to February 9th.
"Operating for forty years in the human services landscape is a great milestone and this year, we are holding many special events that will commemorate this work and our future development," says, Jessica Zufall, Ph.D. Chief Executive Officer.
How this event works is pretty simple, you register on our website. Starting on January 1st, you can walk or run one mile per day indoor or outdoors. Each day can log your workout through various apps on your phone or connect to your Garmin, Fitbit, Mapmyfitness, or Runkeeper.
If you do not have a device you can use our manual entry feature. Run or walk from anywhere in the world, even on your treadmill. As you log your workouts you will receive Google street views of the Florida Keys.
One of the most popular New Year's resolutions is exercising in order to stay healthy and in shape. What better way to do this by participating in the challenge and supporting people with Autism at the same time?
Besides our Virtual Run, Special Citizens has a variety of events going on. There is our Sing For Autism challenge and our #askmeaboutaustism campaign. Special Citizens will celebrate their 40th anniversary on Monday August 15, 2016 with our first annual Golf outing. For more information click here.
Get registered today for the 40 Miles in 40 Days Virtual Challenge by clicking here!
Special Citizens is a non-profit organization committed to the development and delivery of a comprehensive, integrated system of services, which has as its primary purpose the promotion and attainment of independence, inclusion, individuality, and productivity for adults and children with Autism. 
Share: