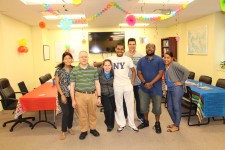 Bronx, New York, May 19, 2017 (Newswire.com) - For the second consecutive year, Special Citizens Futures Unlimited was awarded a $1,500 grant from the New Yankee Stadium Community Benefits Fund, Inc. The purpose of this fund is to improve the quality of life in the Bronx by addressing civic, socioeconomic and/educational needs in addition to and providing social, arts-related, health, cultural, and recreational opportunities.
Special Citizens received this grant in 2016, thanks to the help of Tatiana O'Connor, Community Habilitation Supervisor. This grant will go toward recreational activities for all Special Citizens program participants.
"I am very excited and grateful that our program was awarded this grant again. This means more opportunities for the people we support and more integration activities will be available to them," said O'Connor. 
Last year, with the help of Crystal DeLeon, Community Habilitation Coordinator, O'Connor was able to organize two events. "We organized a Summer Social and Holiday Luncheon in collaboration with the Pre-vocational program. These two events allowed for the individuals we support to socialize and meet other peers from the same program for the very first time," said O'Connor. 
O'Connor described what they would like to do with this year's award. She stated, "Now that spring is here and summer is around the corner, we would like to organize an outdoor event and take advantage of the beautiful weather."
Adults with developmental disabilities often have difficulty finding social and recreational activities to participate in within their community. Awards like this one help to offset that trend and offer the individuals supported by Special Citizens the chance to engage with the greater world around them.
When asked about the importance of receiving an award from The New Yankee Stadium Community Benefits Fund, O'Connor stated: "These funds result in opportunities for the people we support, especially for those who can not afford to do activities that will enhance their socialization and recreational aspects of their life." 
She added, "Awarded funds can expose these deserving men and women to new and exciting experiences, alleviate stress, and promote happier and healthier lifestyles, while aiding them in achieving higher aspirations and gaining confidence in order to promote independence." 
Source: Special Citizens Futures Unlimited, Inc.
Share: