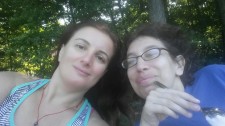 Bronx, New York, August 5, 2016 (Newswire.com) - Special Citizens is a non-profit organization that supports adults and children with Autism, while continuing to embrace person centered planning and promoting the quality of life.
Jennifer Patuleia, and individual supported by Special Citizens accomplished a goal that she wanted to do for several years. Alongside Tatjana Obradovic, Behavior Support/Quality of Life Educator, Patuleia attended a summer Detox in the Poconos for your Body, Mind, and Spirit.
"If you have something you want to do, do not give up on it and always follow your dreams."
Patuleia
described her experience stating, "I have wanted to do something like this of almost 20 years, I really enjoyed the weekend retreat and I embraced every minute of it."
The Family of Light Center hosted this retreat focusing on a Holistic Lifestyle of cleansing, rejuvenation of your Body, full relaxation of your mind, and connection to your spirit through spiritual practices.
Their menu consisted of organic vegetarian meals and snacks prepared by a gourmet Chef. Patuleia expressed concern saying, "I was a bit nervous with some of the food because the whole menu was vegetarian and I never in my life thought that I would never be able to cut back on meat and surprisingly I was able to do so."
She added, "I came back from it now eating avocado, hummus, guacamole, sweet potato, strawberries, blueberries, and raspberries."
Patuleia attributes liking the cuisine to their use of putting oils and organic spices on each meal. "I tried a little bit on my own to see if I like it, and I ended up eating seconds for a lot of it. Now I have incorporated eating all of this at home," said Patuleia.
Patuleia stated that one of her favorite activities was doing Yoga outdoors twice a day at sunrise and sunset, with a certified teacher.  She stated, "Each day we did different poses. Some of the poses where a little difficult but I tried my best to stick with it. She added, "I want to learn as many poses so I can to incorporate into my daily routine."
Some other activities she participated in were walking meditations in nature, Chakra balancing with crystals and essential oils, Healing meditation inside six foot copper pyramids, and fireplace circle gatherings.
Patuleia stated that she had a big experience while doing meditation and using Lavender and Serenity oils. "It started thunder storming outside. I have been afraid of thunderstorms since I was five years old."
She added, "Using Lavender and Serenity oils helped me to relax and I was able to sit through dinner while we had a thunderstorms going on. I am no longer afraid of thunderstorms."
Obradovic described how she felt when they arrived stating, "At first I was concerned because we were on a tight schedule each day from 7am-10pm."
She added, "I was grateful and amazed by Jennifer's strength and how quickly she adjusted to this new environment, which included Jennifer waking up on time every morning and being ready to go within minutes."
Obradovic was impressed with Jennifer stating, "She took part in a two hour long presentation, taking notes, being fully concentrated, asking questions and mingling with others afterwards."
Obradovic expressed excitement over seeing a dream for Jennifer come true. She stated, "I admire her persistence and patience."
She added, "Anyone who can say they have dreamed of doing something for 20 years and still continue with the dream not giving up, shows amazing strength and the ability to overcome obstacles. Seeing her fulfill her dream is deeply satisfying."
Patuleia stated, "If you have something you want to do, do not give up on it and always follow your dreams." For more information about Special Citizens, please visit www.specialcitizens.org.
Source: Special Citizens Futures Unlimited, Inc.
Share: