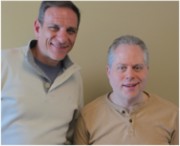 Earlier this year, Special Citizens Futures Unlimited, Inc. (SCFU) became a recipient of a grant from the New York State Office for People with Developmental Disabilities (OPWDD) through the (BIP) Transformation Fund. The grant has been utilized to create the Therapeutic Outreach Uniting Community Health (TOUCH) direct access platform for people with disabilities.
New York, New York, September 14, 2015 (Newswire.com) - TOUCH has experienced great success since its release in the spring and has been working diligently to create enhancements to the application based on feedback from its users. Through the application, people and their families can locate service providers they can begin to engage with, locate employment through our highly efficient partnership with Simply Hired, communicate directly with their Job Coach and locate and attend events that are being hosted by New York State Providers. The application also allows a manner in which to save jobs of interest, events you would like to attend and to catalogue a cart of providers a person is interested in learning more about.
"The original launch of TOUCH in the spring experienced great success and I am thrilled about the new revisions being released today," says, Jessica Zufall-Guberman, CEO of Special Citizens, the host organization for TOUCH. "We have listened to what you need and what helps you as a person being supported and as a professional and it is our goal to continue to provide these enhancements to streamline how you have access to the information you need," she added.
TOUCH continues to engage with Agnostech Systems, a web development company that has not only embraced the mission of Special Citizens but the purpose of the grant and the mutual belief in direct access for people with intellectual and developmental disabilities. Gerry Libertelli, owner of Agnostech Systems has worked closely with the people we support, families and professionals to test the TOUCH application and has provided an experience for the people we support that in some instances have helped them make their own career choices.
To learn more or to get registered, please visit www.touchnys.org.
About Special Citizens- Special Citizens Futures Unlimited, Inc. (SCFU) is a New York-based nonprofit organization that has been supporting adults and children with Autism for over thirty years. SCFU is committed to the development and delivery of a comprehensive, integrated system of services, which has as its primary purpose the promotion and attainment of independence, inclusion, individuality and productivity for adults and children with Autism Spectrum Disorders. Stay in touch with SCFU by following SCFU on Facebook at www.facebook.com/specialcitizens or through SCFU's website at www.specialcitizens.org.
Share: